Cub "Tombstone" Radio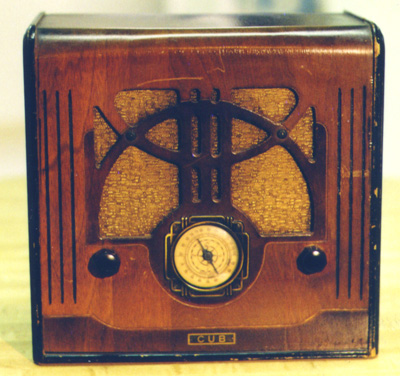 The Cub is typical of the mid-1930s "tombstone" style radios. With its classic wooden case and glowing dial, it's certain that the sounds of The Shadow and Fibber McGee and Molly came from its speaker many, many years ago.

The Cub was manufactured by the Clinton Manufacturing Company, 1217 W Washington Street, Chicago. Other brands manufactured by the company were Clinton, Corona, Crusader, Bostonian, Buckingham, Federal, Harmony, Marshall, Nightingale, Universal, and Westminster. The Cub was generally sold in drug stores and was considered a "budget" brand. (Thanks to Bill Harris for the insight on the manufacturer.)

This was the first old radio I ever acquired. I was about 13 years old and we were cleaning out a relative's attic when this dusty little radio caught my eye. The power cord had to be replaced (the old cloth-covered cord was brittle and very hazardous), so my dad and I picked up the necessary parts at the local hardware store and got it working again. Every so often I will power it up to see if it's still got life in it. It does!

The radio stands about 11 inches high and is 11 inches wide. The depth is 6 inches. Notice the "CUB" emblem below the dial. The case is two-tone wood; you can see how the lower edge of the radio has a darker finish; the sides are done in the same color.

The dial has two scales: the top half is marked for broadcast frequencies ("55" to "150"), and the bottom half is marked in even increments of 10 to seemingly allow tuning from "0" to "100." Between "50" and "60" and also between "85" and "95" part of the scale is marked "POLICE." This hearkens to the days of early radio when police departments broadcast on the standard band.

The set operates on AC and uses the following tubes (all Hytron): 6D6, 6C6, 43, 185 R8, 25Z5. The speaker is a Nathaniel Baldwin "Super Dynamic Speaker" built by Consolidated Radio Products Co., Chicago.

The case is a bit worn, and someday this will be a restoration project. There are a few scratches and chips, but nothing too dramatic in terms of cosmetic problems.

A classic, simple radio.
---

Click here to return to the main Radio Page.