OneWorld SoundStik SS1000 FM Earbud Radio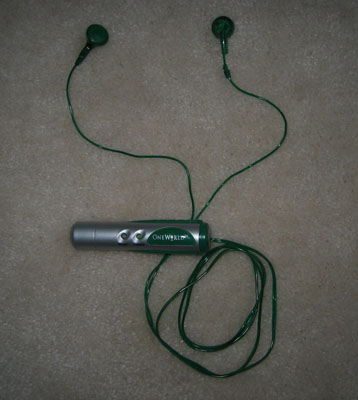 This is a neat little item that my kids got in the Spring of 2003 from a newsstand near our home. It's about the size of a lipstick container and has a set of permanently attached earphones. The name of this radio is the OneWorld SoundStik Model SS1000. The manufacturer also made an upgraded model called the SoundStik model SS2000 which has an LED frequency readout (thanks to reader Steve I. for the tip!)
This is an FM-only, mono radio that has very simple controls: a three-position slider for power and volume (Hi-Lo-Off), a large button on the end for changing (actually scanning through) stations, and a reset button in case you want to start from the top of the band. The only indicator of any kind on the unit is an LED that lights when the power is on.
Power is supplied by four LR44 button cells, stacked up end-to-end. A handy little clip on the side attaches it to a pocket or anything else nearby.
Reception is surprisingly good. I used this radio while sitting by the pool, and I was able to pick up most of the major Chicago stations as well as many of the suburban ones. The earphone cord doubles as an antenna, so positioning the cable affects reception.
Keep your eyes open for these little radios-- sometimes they'll surprise you!
---

Click here to return to the main Radio Page.