Adler-Royal Model 50 Radio/Phonograph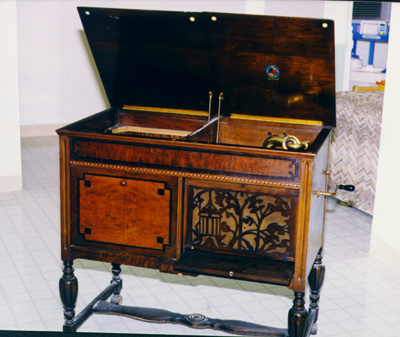 This is an Adler-Royal Model 50 Radio/Phonograph, manufactured by the Adler Manufacturing Company of Louisville, Kentucky. Adler later went on to make office transcription machines (Dictaphones) and was finally purchased by Litton Industries in the 1960s when they became focused on office machines. This particular unit was sold by a retailer called the Witzel Music Company of Chicago.
This unit came to me over 35 years ago, after my grandfather had passed away. After many years of searching, I finally learned the details about this unit.
For a long time, all I knew was that it dated from the 1920s, given the collection of about 30 records that were inside.
The right half of the piece contains a wind-up phonograph, while the left half seemed to be a storage unit of some sort. It wasn't until the Spring of 2001 that I discovered (in this ad from a 1920s edition of Atlantic Monthly) that on some units, the left half originally housed a radio! (Apparently, some units were sold with storage shelves instead of the radio.) Unfortunately, the radio was removed from this piece long ago, so I have no idea of its specifications. I find it interesting that the unit sold for $325 originally; I am certain that a complete unit in working order would bring in much more today.
As you can see from the photos, the phonograph portion is a wind-up unit. It's worked perfectly in spite of being moved around a number of times and spending time in storage. My young daughters were amazed by a machine that could make music that didn't need batteries or an electrical outlet!
Three different kinds of styli were found inside: the RCA Victor, Columbia, and Victor needles shown here. Each of the packages were still full.

The records that came with this unit are mostly 10-inch Victor recordings of pop tunes of the 1920s. Other labels include Vocalion, Puritan, Columbia, Brunswick, Little Wonder, and Pathé. There were a number of one-sided Victrola and Victor records, and a couple are actually copyright (not patented) 1910 and 1920. The record shown on the turntable here is one of my favorites, the Columbia recording of Arthur Pryor's band playing "The Whistler and His Dog."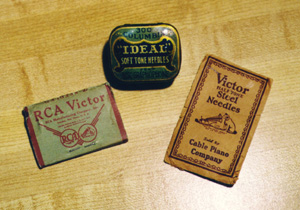 As with many pieces of the era, this is a lovely piece of furniture. When closed, it could pass for a small sideboard or chest. The front-right door drops down and stows away in order for the music to come through the horn, which ends at the cloth/wood grille shown in the photo above. The left-front door swings open to allow access to the radio compartment. Both the right and left lids pull up and lock into place as well.

I have heard from several other Royal owners over the years, all seeking more info on their phonographs. As I discover more about Royal and this unit, I will certainly post the information here!

I sold this unit in 2000 to a collector who moved it to North Carolina.
---

Click here to return to the main Radio Page.