Henry Kloss Model One by Tivoli Audio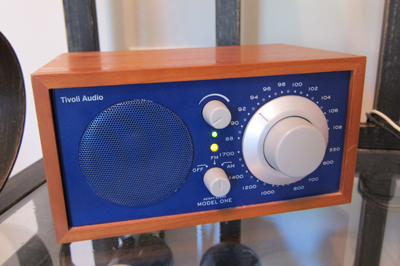 This radio caused a stir among radio fans and audiophiles alike in the early 2000s. It's the Henry Kloss Model One from Tivoli Audio, and it deserves every accolade it's received. This radio is in my kitchen and is on almost all day, every day.

The Model One is, according to the publicity on Tivoli's web site, the culmination of 40 years of work by its creator, Henry Kloss. Kloss has been a driving force in the audio field, with his involvement in Acoustic Research, KLH, Advent, and Cambridge Soundworks. Prior to his passing in 2002, Kloss and Soundworks cofounder Tom DeVesto started Tivoli Audio to once again deliver quality sound to the discriminating listener.

Kloss created the legendary KLH Model Eight in 1960 (he was the "K" in KLH). This radio was considered the first American high-end tabletop radio. This link will take you to a site with a photo of the Model Eight. It is easy to see the similarities between the older radio and the Model One. (There was also a Model Twenty-One sold as a successor to the Model Eight.)

In 1998 he brought to market the Model 88 from Cambridge Soundworks. This was considered by many to be a "Bose Wave Radio Killer," given its feature set and price point, which pits it directly against Bose's tabletop radio. The Model One, however, is in a slightly different class from the Bose and Model 88: its mission is to provide excellent FM and audio in a classy, inexpensive package.

The Model One is elegant in its simplicity: three knobs (tuning, volume, on/off/band), two LEDs (power and tuning), and a speaker that fills the room with surprisingly rich audio.

The acoustics of this unit are incredible. Don't be fooled by the small speaker on the front; the combination of this speaker, the wood cabinet, and the bass port on the bottom of the unit bring to life the excellent circuitry driving the whole operation. Some might be disappointed by the fact that this is a mono unit, but when a radio sounds this good, it doesn't really matter.

The radio portion is very respectable. For FM reception, Kloss uses a discrete component FM tuner featuring a GaAs MES-FET mixer, which is technology used in wireless telephones and until the Model One has not been used in consumer-grade radios. The radio is very sensitive and with the built-in FM antenna I can pick up most of my local stations without (or with very little) static. I currently have this radio connected to a rooftop FM antenna, and performance on the band is fantastic.

AM reception is good, but from my location (suburbs of Chicago, near the transmitters of WBBM and WGN) there is a bit of bleed-over between stations. This is not a DX machine on AM, but it does perform respectably.

The 5:1 ratio on the tuning knob makes zeroing in on a station easy. It also harkens back to the days when manufacturers actually put some thought into the fact that their customers may want to tune to a station without requiring the steady hand of a safecracker.

To take further advantage of the unit's wonderful audio, there is a mono AUX-IN jack at the back of the unit. You can plug in a CD player or cassette deck and enjoy the great sound. I know of one Model One owner who has the audio from his computer system connected to this unit, and he swears by it. My only complaint is that there's no switch on the unit to go to the AUX port: when you plug in a cable it overrides whatever is playing, FM or AM. This is not a huge issue, but sometimes it would be nice to just throw a switch if I wanted to catch a weather forecast or something.

There are also headphones and record-out jacks as well as the F-type FM antenna jack and a 12VDC input. The unit comes with a cord to operate on 120 VAC. There is a switch on the back to select between the internal and external FM antennas.

The dial scale runs from 88 to 108 MHz FM and 550 to 1700 kHz MW, the standard for US radios.

Tivoli sells this radio in five different cases; the customer has the choice of: cobalt/cherry (shown above), Classic Walnut (white face), Hunter/Maple (green face), Silver/Black, or Silver/White.

The unit is made in China.

In all, I can't say enough good things about this radio. It would be an excellent addition to a bedroom, den, kitchen, or anywhere you would like quality audio in a small package. It's definitely worth more than the suggested retail of $99 at the time I bought it (in late 2000)!
---

Click here to return to the main Radio Page.